BLACK STONE CHERRY in interview – Experiencing the Southern Charm
Reading Time:
14
minutes
Originally published on the Global Rockstar Magazine on 07.03.2016 and if you don't know Black Stone Cherry click here and you may remember.
I met Black Stone Cherry mid February at the Ottakringer Brauerei before their Viennese concert. The backstage area at the Ottakringer Brauerei is probably the classiest backstage area in Vienna, for sure the chicest one I've ever seen. The furniture pieces are clean and match, the fridges against the wall are all new and shiny, filled with the newest brands of organic lemonade, the coffee maker in the corner is so clean I suspect nobody ever dares to touch it. I didn't, for sure.
Given that rockers will be rockers, no matter how fancy the place is, it was a strange picture — people hanging around in oversized black t-shirts and work-jeans, their feet hanging from the armrests of the couches, slurping from designer bottles… even before knowing how nice Black Stone Cherry are in person, this picture alone made my day 😀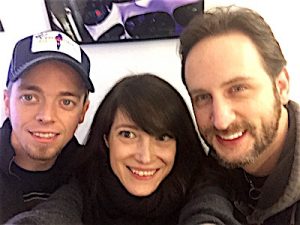 ---
Black Stone Cherry is an American Hard Rock band founded in Edmond, Kentucky, in 2001. Teenagers Chris Robertson (lead vocals, lead guitar) and John Fred Young (vocals, drums) started to play music together and were soon joined by Ben Wells (vocals, rhythm guitar) and Jon Lawhorn (vocals, bass guitar). They began playing clubs and shows in the area and soon gathered a large following of people of all ages.
After their first demo CD (Rock N' Roll Tape), in 2006 the band released their debut album – Black Stone Cherry. It was followed by three studio albums, three EPs, one live album and three compilations. They have charted eight singles in the US Mainstream Rock Tracks charts.
Black Stone Cherry's fifth album, Kentucky, will be released on April 1st. You can pre-order it here 🙂
---
We kind of write (songs) wherever we can. So we can keep the ball rolling. Because the more down time you spend, the less time you are in the public eye, the faster people can forget about you. So we try to keep as busy as possible.
– Jon Lawhon
I sat down, fancy chairs, fancy drinks and all, with two members of Black Stone Cherry, guitarist Ben Wells and bassist Jon Lawhorn.
How did you fall in love with music? Why did you decide you wanted to become a musician?
Ben: For me, I love Elvis Presley, and that's what made me want to get into music. Music, entertaining… the whole deal. I'll thank Elvis for that.
When did you start playing?
Ben: When I was really little – elementary school, probably around 6 years old – I got a guitar and I played on it for a little bit. I guess I took it more seriously as I got a little older. I don't know, I guess I thought the guitar was a cool instrument, you know? It's instantly gratifying too, cuz you can learn something… you can literally take a guitar, learn something new and play a song…
Grrr, you can, I can't! I've been struggling with my ukulele for years!
Jon: HAHAHA!
Gratifying is really not the word that jumps to my mind…
Ben: Patience?!
Ehh, maybe! (I turn to Jon) And you? How did it start?
Jon: For me… my uncle was a drummer, it's kind of been a family trait. I was just a kid and I remember just listening to Ted Nugent and AC/DC with my dad and I was always like… I wanna do something like that, play music.
And then MTV and all that… you get to see all these different artists and musicians, these music videos and everything. As a kid it was very intriguing, so it was just always kind of in the path for me.
Love at first sight?
Jon: Pretty much, yeah…
The four of you play together since your teenage years, this is the Black Stone Cherry original line up, right?
Jon: Yeah…
Ben: Yes m'aam!!
(NB I jumped on my chair at this yes m'aam! What am I? The queen of England?! I mean, I know that I am good ten years older than Ben, but I'm sitting here in my scruffy jeans and old Dr. Martens… that yes m'aam made me feel ancient!)
This is interesting because it's not very common…
Ben: It's unfortunate (NB that it's not more common). For us, we're friends, we were friends with each other before we were an actual band. We always keep that mentally.
We're in it for the right reasons. Nobody has any form of ego and everything is split equally, everybody has a vote and say. A lot of bands, you might have one guy that calls all the shots, or writes all the songs. For us, it's the four of us. That has a lot do with why it's still the four of us!
It's pretty incredible. There are bands that grow a bit together, and then one of the members cannot keep the pace – technically, maybe…
Jon: We always look at each other as our own personal driving force. Me personally, when we're playing a show, if I look over and see Ben and he's killing it – which he usually does – that drives me to do better and try to play harder and be more of a showman. Every night. And we take that not only from the show standpoint, but as far as our playing ability.
When somebody comes up with something… like if Chris comes up with something that I find difficult to play, I work on it until I can play it. We just all keep that mentality. We are all trying to grow and excel as best as we can.
Our music and our lyrics have always been honest, and very vulnerable, and we don't hold up anything. There's nothing between us and the fans.
– Ben Wells
It still amazes me, the same lineup from the beginning… is a beautiful thing.
Ben: Thank you.
So you're also friends in real life.
Jon: Oh yeah!!
Do you also hang out if it doesn't have to do with music? Or is it I can't see these people anymore…
Ben: No, when we go home after a tour, you have a few days of decompression, you spend time with your family and what not… If somebody's having a get together at their house, or a buddy's having people over, we always see each other there. We all live close to each other, so we might see somebody at the same restaurant, it's not like we all live far away from each other.
How's your writing process?
Jon: We'll write songs at the practice house in Kentucky where we've always written (NB Black Stone Cherry took over the practice house that had been used by The Kentucky Headhunters since 1968. In fact John Fred Young is the son of The Kentucky Headhunters' rhythm guitarist Richard Joung). We always return to the practice house either way to finish the ideas.
We'll write some on the road, we kind of write wherever we can. So we can keep the ball rolling. Because the more down time you spend, the less time you are in the public eye, the faster people can forget about you. So we try to keep as busy as possible.
If we're touring and we have some downtime while on the road, we'll try to write some stuff and start getting a few songs or ideas under our belt. And then we'll return to the practice house and reconvene, and get all of our ideas and everything finalized there.
Was there a moment when you thought, it's working! We make a living out of this, this is it!
Ben: We've never really sat back and thought we've made it. Cuz we don't want to get comfortable and complacent and jaded to what we're doing…
Tell me the truth… you don't feel you've made it, or you don't allow yourself to like sit down and think I've made it?
Ben: No, we don't allow ourselves… we know we've gotten to do some incredible things and we're very grateful. We know that we're very luck and a lot of hard work has paid off. We do recognize that 🙂
Sometimes you have to pinch yourself and think…
Man! I can't believe we're playing these shows and these people from different countries are coming to watch us play!
This is incredible, but we haven't sat back and thought ok, we're good to go now. Cuz there's still so much more stuff that we wanna do, more places that we want to go to… there's more fans to be made. So that's kind of the mentality we always have.
Any specific moment or concert that had a symbolic value?
Jon: (breathes out whooo then says) Whoa…
Ben: You know, playing shows in different places, different states, different countries and having people come out, is definitely a feeling of this is starting to work. Because we still get excited about stuff like that!
When people come out and see us, especially on a tour that we're not even promoting… we don't even have a new album out now! And people are still coming out to watch us play, is pretty incredible! So, that makes us feel really good.
The first couple of years you preformed in the local area, and you built up a huge fan base, locally. And this was basically the key to getting big…
Jon: I think with any band, ultimately, record labels want to see that you can draw people. So, rule of thumb, you want to pick where your central base is and get yourself a 500 mile radius in that region, play in that area and keep building fans. If somebody were to come out from a record label to come see you, you're going to have a packed house.
You have to build that area. I definitely wouldn't suggest for a new band to, all of a sudden, decide to sink a ton of money into it and try to do a world tour! Because you're not going to be playing in front of anybody, you're just gonna be playing in front of the 5 people that might happen to show up every night. And that's all it's going to be. It's gonna take a much longer time to build up.
If you play your home region, like with us in America, we have the States… so if you play your home State quite a bit, maybe a trickle down to the nearest states. If you play like that then you have a better opportunity of building that core fan base, where a record label or somebody might show interest.
Here (NB in Europe) everything's more… the countries are smaller than what we have over there (NB in America) so it's more countries versus states. Stick to your country, play to your people, play to your audience and keep building that up. And somebody will eventually take notice.
Up and coming artists should put their energy in… what? What's the best strategy?
Ben: I don't have the best advice, I can just tell you what we did. We took every show we could get, we didn't worry about how much we were getting paid… a lot of new bands are like how much are we getting paid? That should be the last question on your mind
At the very beginning, you mean?
Ben: Yeah, for us we played restaurants, we played high school gyms, we played parties, we played anything just to be able to get the exposure, and play, and try, and gain more and more people.
And then we would look at a city that was close to us, and if there was a big band coming in to town we would call the venue, ask if we could be on the show, to open the show for free, just to gain more exposure.
That's kind of the way we did it. Just slow, we kinda did it by the ground, just doing our own thing and letting word of mouth take over.
What skills does an artist need in order to be a success?
Jon: (In) today's market you gotta be able to do everything in house as much as possible. Like even with us, we're in our second deal right now with Mascot Label – we were with Roadrunner for a number of years – this is our 5th album we are putting out. And we produced the new record by ourselves. We did all the artwork ourselves, we've done a bunch of video assets for it…
The more you can do by yourself, the more money you can save in the backend. And the faster you're actually going to be able to earn an income.
Not to mention the fact that so many of these secondary items, like artwork for your record, or a documentary based from the studio, or things like that, you'll pay an atrocious amount of money to somebody to build these assets.
Album art for example: our artwork is an 8 panel poster on one side and another 8 panels on the opposite side, with all the text and thank you's and other images from the recording process. That artwork, if we were to go to somebody that does artwork all day long for money, we would have paid anywhere from 8 to 10 thousand dollars to get that done…
How many singles would you have to sell to get that back…
Jon: Exactly! So we did it ourselves! So, that already puts us 8 to 10 thousand dollars in the good towards recouping what it costs to record the record.
The more you can do on your own, the better off you are. Just make sure you're not doing it on your own in a lesser quality, since the quality still has to be good. You still have to be able to contend with everything else that's out there. But don't pay 8-10 thousand dollars for artwork, don't pay 40 thousand dollars for somebody to film the studio process. Just get a buddy that's got a camera, that's good at it, you know?
It's cost savings but is it also controlling the whole thing…
Jon: Absolutely. When you do it yourself you have total control over what's being put out.
So it's never a situation like if you have somebody come in, and film a bunch of stuff, and then they cut it together and put it out, you see it and you're…
Well, that makes us look like crap! :-O
You don't have that problem because if you do it yourself you're putting out only what you want the public to see. It really keeps you in control of your own destiny.
According to Wikipedia, the music you make can be catalogued as Hard Rock, Alternative, Metal and Southern Rock. Can we focus on the Southern Rock for a sec?
(Both laugh)
Because I am European, and it's kind of difficult for me to grasp what it means… each culture has its own fantasies, idols and idiosyncrasies. And all I know about The South comes from movies! Like I'm watching Nashville…
Ben: I love that show!
But this is how much I know about it! It's all very foreign to me. Can you explain Southern Rock to a European girl?
Ben: I think it's more of about a way of life versus a certain sound of music.
Then explain me the way of life! 🙂
Ben: We're from a small town in the middle of Kentucky, so for us it's about slow pace, very simple. Most people… it's an everybody-knows-everybody type of town. It's about having respect and manners, and yes m'aam, no m'aam…
(NB Ahhh!! Finally, I understand! I'm not the queen of England after all!)
Ben: …those things, we were brought up like that. To me, it encompasses what Southern Rock as a genre is. It's honest, it's real it's very prideful and respectful, and I think that's why people have linked us to that. Because our music and our lyrics have always been honest, and very vulnerable, and we don't try to… we don't hold up anything. There's nothing between us and the fans.
You know, we are very open and very personal. And that is just a little bit of southern hospitality that I think comes off on us. Coupled with the way Chris sings – he has a very southern accent when he sings, compared to most other rock n' roll singers. Those elements are just in our music, whether we want them to be there or not. They're always going to be there.
When you're home everybody knows you. When you're touring, do you get recognized on the street?
Jon: Sometimes, it really all just depends. If we're close to the venue of course it's gonna be easier for somebody, because they're coming to the show. And they might bump into us or whatever. It happens sometimes and…
The hardcore Rock fans, though, are the same worldwide. It doesn't matter where you go. If they're a hardcore Rock fan, they're gonna seek you out, they're gonna find you, they're gonna dig into your music.
– Jon Lawhon
Do you like it?
Jon: It's ok, yeah…
Hehe, it's ok is the little brother of I hate it! 😛
Jon: I mean, we're not glory hounds or anything. We're not running around, Hey notice me, pay attention to me! It's kinda not our thing.
Ben: We don't expect it
Is it flattering…
Jon: Oh sure!
… or is it intruding?
Jon: No, it's flattering!
Ben: We're not like that at all, we'll talk to fans. If we're eating at a restaurant and somebody comes up… I mean they're the whole reason that we're doing it! We don't have any kind of problem with anybody coming up to us, anytime.
Should I believe you? You're almost too nice to be true!
Ben: Where we're from… we're just humble, our upbringing, we don't expect to be noticed. But when we are, it's very neat. It is flattering, you feel respected, and it's like this is cool. People… they want to come up and talk to you and take a photo with you.
You used the word respected, which I didn't expect in this context. It has to do with this southern culture, I guess?
Ben: I think respect is everywhere.
I can hear a dash of Country in Black Stone Cherry's music…
Ben: A little bit! We're influenced by all types of music… Hard Rock, Metal, Blues, Motown, Country and many other things were influences to us. So they just come out naturally in our songs.
Your first album was self titled, the next one will be called Kentucky. Is this some sort of going back to the beginning, to your roots? Is there a kind of circle?
Jon: We parted ways with Roadrunner January of last year. When that happened we were free agents at that point. So we started discussing what our next step was going to be and we were like – like I was saying earlier about spending all this money on stuff you don't need to spend money on…
Ok, why do we want to spend $200,000 on some big fancy studio when we can get the same sounds at a cheaper studio? Somewhere that makes more sense for us?
So we started thinking about different ideas and concepts, ways and directions we would go in. We decided to go back to the very first guy we ever worked with, his name is David Barrick, he engineered the new record and he also engineered and helped produce the first record.
We decided we were going to do that, so we started working on all the songs, getting all the songs together for it. Then Mascot came along, while we were in mid-process. We were gonna record a record with or without a label – but they came along and we all just hit it off, and everything worked really well. We struck up a license deal with them, so we get to maintain our masters and all that… we get to own everything.
We are at a point in our career where we understand how to control it, at least to the degree where we can (chuckles). So we opted for that, we self-produced it and we did it in Kentucky. We all live in Kentucky, three of the guys are from Kentucky – I'm not! I moved up when I was a teenager, though. So I've been in Kentucky longer than I've been anywhere else.
You belong there.
Jon: I belong there now. Yes.
We had some horn players, some background singers, there's a guy in Bowling Green, Kentucky, who put together some strings on a song called The Rambler. Everybody that is in addition to us on the record, is all from Kentucky. It all just kind of made sense for us to truly bring that rejuvenation of roots to the forefront.
And musically? Also going back to something?
Ben: Kind of. In a way, because we were left alone to do the album the way we wanted to. This was naturally just how we sound when we're just being ourselves.
This album was a lot heavier than our other albums, but I think that's just what we were doing. We love big guitar riffs, heavy bass and drums… we didn't have anybody looking over our shoulders saying… well maybe don't do that.
We weren't writing for commercial success. Like a lot of rock bands might write just for radio, so their songs are certain lengths, they have certain types of sounds… for us it was just about making a great Rock album, that we knew we would be proud of, and our fans could be proud of.
In turn it's the truest representation of the band to date, because we were just able to do it by ourselves. Call all the shots.
How is it to tour in Europe compared to the US?
Jon: It's very different markets.
In America, it's very radio driven. You almost have to have this specific radio sound to be able to truly fit the market well enough, to where radio will show you love and really push your song on their format. Which helps to notify the people in the area… listen to this band they're cool!
In Europe, it's more put the band name and the poster out, people see it and they wanna research it. They wanna learn about it and decide for themselves whether or not they like it. So it's very different when it comes to that.
The hardcore Rock fans, though, are the same worldwide. It doesn't matter where you go. If they're a hardcore Rock fan, they're gonna seek you out, they're gonna find you, they're gonna dig into your music. If they like it, they're gonna love it, they'll always be there.
It's just all about never giving up, and always playing as much as we can. Our whole mentality, since day one, has been win it on the ground. Play shows. Playing concerts is the way that we've always won our audience.
Being on stage, that's what it's all about?
Jon: Absolutely.
Ben: Sure, that's what we do. That's our whole thing.
Jon: Even when we're in the studio, we're constantly saying, what's this going to be like at any of the festivals that we play in America or in Europe? What's it gonna be like when there's a mass of people there? What are they gonna want to sing? When are they gonna want to jump? What are they gonna want to move to? All that.
---
PS Did you notice? No dirty words in this interview, not even a hint. I think I'm slowly starting to grasp this whole southern culture thing…