Scott Ackerman of TuneCore – A non-musician CEO of a music tech-company?
Reading Time:
7
minutes
Originally published on the MASTERLIZER Blog on 30.09.2016.
Since its debut in 2006, the Reeperbahn Festival in Hamburg, Germany, has grown to become one of the most important meeting places for the music industry worldwide, and it boasts a broad spectrum of emerging artists.
This year TuneCore invited MASTERLIZER to the Reeperbahn Festival. We accepted with pleasure and had a legendary road-trip Vienna-Prague-Dresden-Berlin-Hamburg and back.
In Hamburg we finally met the TuneCore team. There is this thing with online companies: since everything seems to happen on a screen and on remote servers, one tends to forget there are real people behind it. It is always a little magical to finally meet in person the faces that have always been on video conferences or even just names on a computer screen.
We also met Scott Ackerman, CEO of TuneCore. He's quite the customer care guru and in the past years he brought start-ups like eHarmony and Orbitz to success. At TuneCore he oversaw the growth in digital store partnerships and started the Artist Services marketplace as well as an Innovation Lab with a focus on product development. During his tenure, TuneCore has also opened new offices in Nashville and Boston and launched TuneCore Japan, TuneCore Canada and TuneCore Germany.
While chatting someone asked him if he's a musician. To our surprise he answered a dry no. I was immediately intrigued, since I'm not a musician myself. I actually entered this business one year ago with a pretty naïve attitude and was under the impression to be an absolute rarity. I asked him for a few minutes of his time to ask him a couple of questions about this topic for the MASTERLIZER blog.
See, we normally focus more on artists and on music production, but I couldn't miss the chance to investigate this aspect of the music business. What qualities does one need in order to work in it? Is it really necessary to be able to play any instruments? To have a deep understanding of music history? To know the music industry as deeply as their own pockets?
We met the next morning in The Reeperbahn Festival Lounge, a chic affaire full of super modern furniture, a lot of pomp and a little dark. Outside it was a beautiful fall morning, a tad windy, crisp air, sunny – one of those days it would simply be a pity not to sit outside. We wrapped ourselves in our coats and sat down to enjoy the possibly last sunrays of the season.
(In the picture above, fltr: Melita Balaski, Creative Director MASTERLIZER; Monica Mel, Editor MASTERLIZER; Maximilian Kamenar, CEO/Founder MASTERLIZER; Marie-Anne Robert, Vice President of International TuneCore; Ronny Steibl, New Business Development MASTERLIZER; Scott Ackerman, CEO TuneCore; Stine Mühle, Brand Manager Germany TuneCore)
---
I've heard you're not a musician and that you don't come from the music industry…
That's correct! I didn't originally, but I've been in it for 6 years now!
So you are now?!
[Laughs] Now I'm from the music industry!
But you're not a musician?
No.
Do you play any instrument?
No.
Well, when I was a kid I played the trombone in the school band… and that was the beginning and the end of it!
Do you listen to a lot of music?
Oh yes! I have a passion for music, all genres.
All genres? Most people stick to a few artists and bands, maybe to one or two genres. Having a broad music interest is not that common…
Well, that's our TuneCore core-team too. We have all genres, creators of all types of music.
Did you develop a taste for music after joining TuneCore?
No, I've always had a taste… when I was younger I did like Progressive music, bands like Genesis, Peter Gabriel. When I grew older I started to like Classical, New Age… then working for TuneCore and hearing all the new Indie bands – it's great music, it's fun to listen to!
The music industry is a place where many people try to turn their passion into a job… and it's the same with other passions, or hobbies. I, for example, love to cook and I like to make my own clothes – I could try to monetize those! Ever tried the same with your passions/hobbies?
My hobbies today are… listening to music! And I do like to sail. But there's not a career in that for me!
When I grew up my father was in aeronautics so I got to travel a lot – and I loved it. I even started my career in aeronautics, at American Airlines. And I really enjoyed it. Then I started to network for start-up companies, e-commerce companies, and I enjoyed that too.
I think for me, all the companies I've been working for are companies focusing on helping people. At TuneCore, we're giving every independent artist a chance, everybody deserves an opportunity. We're not sitting here deciding who's good or who's gonna be famous. That's up to the artist. They give us their content, we give them tools to be creative. That's exciting.
We're looking for people who can bring in new ideas and look at things from different angles.
In the music industry most people either are musicians or come from the music industry. Is it possible for everybody to enter it transversally?
I don't know if anybody could, but before TuneCore, in the airline industry, I learned a lot about operations and finance. And those pieces are all important in any business.
While every business focuses on different topics – music, travel – or dating! – the core pieces of running operations are always the same. Once you've learned the core of finance and business operations, I think you can get into any type of business. And I think that it's easier to learn the business than the principles of finance or of operations.
Are there roles at TuneCore that must be covered by musicians or music experts?
As soon as you look more into managing resources, of course. Certain pieces of the industry need someone who shares the same path and feeling, of making music and trying to be successful, and having a side-job to make a living. Like A/R for example, it needs the knowledge of somebody that really understands – when they're listening to music – how to be creative and help those artists become more successful. It's a talent that you can't just learn.
We have a mix of people, not everybody at TuneCore is from the music industry. And that helps, because we're doing a lot of new things. If you come from the music industry and know how it works, you tend to repeat that. We're not looking for that. We're looking for people who can bring in new ideas and look at things from different angles.
Some roles, like finance – even marketing – you can have people from traditional industries, such as insurance and health-care. That's what we've done. We have people from the music industry, people from the e-commerce world, people who have grown businesses, regardless of the industry.
Advantages and disadvantages of entering a business without knowing it by heart?
Advantages… you think differently! You don't come with the same flaws of how you got used to doing it.
Disadvantages… [laughs] learning the industry! For me it was learning about how artists puts their content together, their metadata and how they deliver it to us… but those are all things you can learn over time.
Bringing in people with new ideas, outsiders of the industry, is a good thing. But you need people from the industry too. Because they have to tell you how it really works. It's a great balance and it's been very successful for us at TuneCore.
That's the important piece, the passion.
Sometimes I have really great ideas because of my strange outsider angle, and sometimes, because of the same reason, I say stupid things too! I fall in the classic traps with both feet. Ever happened to you? Any anecdote?
Nothing specific, but for me the thing that I find challenging is when I'm sitting around with people that have been in the industry a long time… they like to name-drop…
Hey, do you know so-and-so? And so-and-so-and-so?!
…and I don't know some of those people!
How do you react? Personally, sometimes, I simply pretend… 😛
That's not my personality, I don't pretend! I just say
No, I don't know those people.
(But some I do! [Laughs])
But seriously, I listen. There are some great people from the music industry who I can learn from. Any opportunity I can get to talk to them is rewarding for me.
We're doing really well at TuneCore, I'm really happy with the staff that we have and I think we've proven that you don't need everyone from the music industry.
Again, I think every industry has learned some good things, so if you can bring people in from different industries and learn their best practices it can only help you as a business.
At MASTERLIZER it's the same! Our CTO, for example, is not from the music industry and his only music experience was playing the flute during elementary school. He had to learn a lot about signal processing, a little about music production, then he took off!
I think for us, everyone at TuneCore has a deep passion for music – we all love it! That is very helpful. I don't know how happy I'd be as an employee of TuneCore if I didn't like music.
Our team, I can tell, while they're working they're always listening to music. We play a lot of music, we invite our artists to come in and play in front of the team, share their successes…that's very rewarding.
That's the important piece, the passion.
Well, thank you for your time!
Thank you!
---
Epilogue:
Then we both look down at my smart-phone on the table as I switch off the recorder. At that exact moment a giant truck drives by and makes a huge noise. I thoughtlessly go
This recording will be a task, with all the wind and traffic noise!
I don't know if he feels a tad guilty because he suggested we sit outside, or if he's just nice like that, but he answers
Oh, if it doesn't work call me, we can do it again!
Oh, don't worry, we're MASTERLIZER!! 😀
Haha!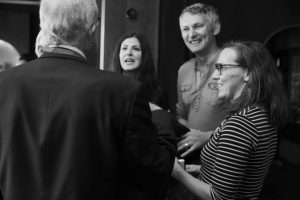 TuneCore Masterlizer Reeperbahn Festival 2016 TuneCore meet and greet at the Reeperbahn Festival 2016, fltr: Ronny Steibl (oh well, at least his ear), New Business Development MASTERLIZER; Scott Ackerman (back to the camera), TuneCore; Melita Balaski, Creative Director MASTERLIZER; Maximilian Kamenar, CEO/Founder MASTERLIZER, Stine Mühle, Brand Manager Germany TuneCore
(c) Marius Drews/TuneCore